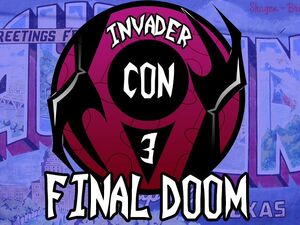 Greetings Earth pigs! InvaderCon three is coming soon, and it will be in Austin, Texas this Summer! I will be there, as well as Ark, my sister. If anyone else is planning on going or simply wants to look at the site for more information, click the link below. Just in case you did not know, this WILL BE THE LAST DOOMCON EVER! Get tickets while you can!

[[1]]
I hope to see you there!
Ad blocker interference detected!
Wikia is a free-to-use site that makes money from advertising. We have a modified experience for viewers using ad blockers

Wikia is not accessible if you've made further modifications. Remove the custom ad blocker rule(s) and the page will load as expected.