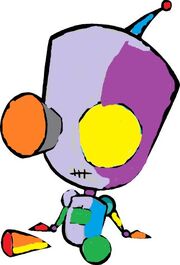 Tik is Invader Shishi's robot. Quote: " Can I have your Sammach Gir?" For some unknown reason he's colorful. He as immature as GIR but smarter than him. The reason why Shishi is always mad because Tik annoys him with his stupid remarks.
Ad blocker interference detected!
Wikia is a free-to-use site that makes money from advertising. We have a modified experience for viewers using ad blockers

Wikia is not accessible if you've made further modifications. Remove the custom ad blocker rule(s) and the page will load as expected.