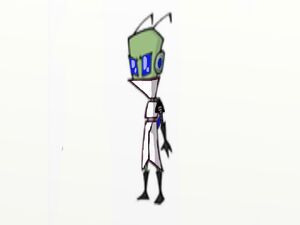 Splack is an Irken who is
Invader Vax
's technician. He has helped him with many things. He is Vax's pupil.
Splack
Biographical information
Homeworld

Irk

Age

245

Rank

Technician

Physical description
Gender

Male

Eye Color

Blue

Height

5ft0

Additional information
Weapons

PAK

Equipment

PAK

SIR Unit

None

Number of Planets Conquered

0

Affiliation

Irken Empire, Invader Vax

Notable Facts

Vax's technician.

[Source]
Personality
Edit
He is very serious and tends to warn people of certain things in a very worried expression.
Appearence
Edit
Splack has blue eyes, blue spots on his PAK, a lab coat, up-pointed antenae, and regular boots.
Realationships
Edit
Invader Vax-He is a good friend and helpfull ally of Vax.
Invader Vex-He only sees Vex when he is with Vax. More or less, they are frends.
Plixx-Good friends. They're pretty similar.
Ad blocker interference detected!
Wikia is a free-to-use site that makes money from advertising. We have a modified experience for viewers using ad blockers

Wikia is not accessible if you've made further modifications. Remove the custom ad blocker rule(s) and the page will load as expected.