"Eeeh.. but I don't really wanna do much right now.." - Nightmare Menami
Nightmare Menami is the Nightmare Dimension counterpart of Menami. She has the ability to manipulate fire and isn't as aggressive and war-like as most would expect from a Nightmare. 
Menami
Biographical information
Homeworld

Nightmare Irk, Nightmare Dimension

Age

17

Rank

Elite

Physical description
Gender

Female

Eye Color

Light Green (And nothing on the right)

Additional information
Weapons

Dress tendrals, PAK weapons, fire manipulation

Affiliation

Nightmare Irken Empire

Notable Facts

Psychic of flames and ember, able to manipulate flame and burning

[Source]
N. Menami was born from a glitchy tube, a couple minutes after Menami. The tube process where the Irken is "hatched" had almost failed and left her unborn, but luckily it had managed to open at the last minute. She came out mostly fine, however, either from the accident or just naturally, she was born without a right eye and cannot hear very well. However she has very keen eyesight despite this in any situation.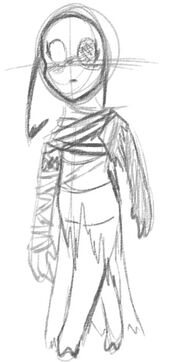 Personality 
Edit
She can generally be very lazy, not wanting to do chores or work much and likes to relax and sleep often. As quoted by Nightmare Lurk, "she smells like a pig's pen", which is an overexaggeration, but it just goes to say that she isn't perfectly clean. Though if she needs to, she'll get the job done effeciently. 
She may come off as abusive or crude at times due to her distraught personality, and a fierce attitude if provoked enough. Usually it's only when her boundaries are pushed or a friend's life is threatened. All aside though, she isn't as aggressive or bad as most other Nightmares. 
Relations
Edit
~~WIP~~
Abilities and Facts
Edit
She has the ability to manipulate fires, which happens to tie in with her zodiac. Menami and N. Menami being a Sagittarius of December 10th, their natural element is fire. 
The bottoms of her dress that look like fire can also turn into flaming, expandable tendrals if needed to use as weapons. 
Ad blocker interference detected!
Wikia is a free-to-use site that makes money from advertising. We have a modified experience for viewers using ad blockers

Wikia is not accessible if you've made further modifications. Remove the custom ad blocker rule(s) and the page will load as expected.