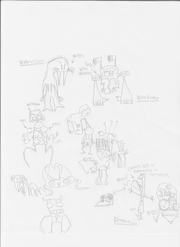 Gnar
Biographical information
Homeworld

Dooganlarr

Age

134 Bleedoodle years (268 in Earth years)

Rank

Trainee

Physical description
Gender

Male

Eye Color

none

Height

4 feet

Additional information
Weapons

incredible strength,ability to cause painful hearing loss with high pitched whistling

Equipment

none

SIR Unit

none

Number of Planets Conquered

0

Affiliation

Bleedoodle race

Notable Facts

Terrible sense of smell

[Source]
 Gnar is a Bleedoodle that trained with Darrz on planet Hobo 13. 
Personality
Edit
Gnar is known to be usually calm in most situations. When in tough situations he usually tries to find the most logical solution,if not,he can improvise quickly. Although,Gnar can't stand uncooperative people,and usually treats them with disrespect.
If anyone refuses to cooperate or makes stupid descisions,he gets very frustrated and refers to them as "horrible morons".  If said person annoys him enough,he will not hesitate to leave them behind.
Gnar also has a tendency to be self centered often,only caring about what he wants. 
He communicates with a translator device,because his species only communicate in whistles.
Gnar secretly dislikes Irkens,seeing them as idiotic tyrants.
Gnar's favorite food is nachos filled with bacon bits.
Gnar is known to have incredible strength due to his huge arms.
His species eat by spitting acid on their food and sucking it up with a long straw like proboscis. However,other species consider this to be disgusting,so most eat using a retractable bendy straw like device that replaces their their proboscis. 
He has an awful sense of smell,but has excellant vision. 
Ad blocker interference detected!
Wikia is a free-to-use site that makes money from advertising. We have a modified experience for viewers using ad blockers

Wikia is not accessible if you've made further modifications. Remove the custom ad blocker rule(s) and the page will load as expected.