BEHOLD! The incredible power of Ninja Star Cookies can be yours today! Now available in regular and special edition Moofy packaging!
Instructions
Edit
Print two copies of the selected page
Cut out the first copy
ONLY cut out the main panel of the second copy
Fold and tape together the panels of the first copy
Tape the second large panel to the bottom ONLY on one side
Fill the box with cookies of your choosing (I recommend Girl Scout Samoa cookies)
Thank me (Invader Vex) for bringing the great taste of Chocolate Covered Ninja Star Cookies into your home!
Devour cookies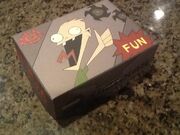 Ad blocker interference detected!
Wikia is a free-to-use site that makes money from advertising. We have a modified experience for viewers using ad blockers

Wikia is not accessible if you've made further modifications. Remove the custom ad blocker rule(s) and the page will load as expected.